Oh dear, you may think, advertising, did it have to come to that?? Well, I have linked to Amazon.com for more than 20 months now. I have no idea how many people follow my links, much less how many actually buy something there, and – believe me – I never did care and I don't now.
On the other hand, by using Amazon as a reference for the music that I present, I have always at least theoretically advertised their business, and from now on I may even make a profit by doing so.
Will I get rich? I suppose not. Remember Mike Johnston and his Online Photographer? Well, on good days he's supposed to get 30000 hits (and that's an old figure!), while my Daily Photography hovers at around … what? 150? Now imagine that Mike regularly has to ask people to actually use his Amazon links. I guess you can rely on me staying down to earth 🙂
Now, this being out of our way, let me shortly explain what my advertising policy is all about. I was asked recently, if I would sell text links on specific pages of my blog. Inquiring about the nature of these links I found out that they would have to be blended into my content in a way that could be taken as an endorsement, and in fact I believe that the whole point of such a campaign is, to use the credibility of independent bloggers to camouflage the concept of advertising completely.
This is sneaky. I won't do that. What I will do is converting all my links to Amazon to a kind of link where I profit from sells that result from someone following that link. I think this is OK. These are links to mostly music or probably photo equipment, and I only link to things that I own and like. These are things that I can recommend.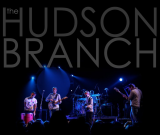 But not everything is commercial. Today's Song of the Day is from "The Hudson Branch EP" by The Hudson Branch, a music group based in Crystal Lake, Illinois. Three of their six members are Bienerts, and until today I knew Corey Bienert mostly for his photography. Imagine my surprise when I found out this morning, that he and his band actually make very good music. If I were you, I'd head over to their site and download some music as long as it's for free. I can't imagine that it will stay that way, it's simply too good.
The two bicycle images were shot yesterday morning on my way to work.